Front Anti-roll Bar / Front Sway Bar / Front Stabilizer Bar for Proton Gen 2 improve your car Handling & Stability.
Specification: 20mm Solid with Polyurethane Bushing(Standard 18mm Solid)
Decrease oversteer. Oversteer is when the rear tires lose grip and causing the rear end of the vehicle slides out of a corner. This phenomenon happens particularly to FR (Front engine, Rear wheel drive) or RR (Rear engine, Rear wheel drive) cars. Oversteer can be corrected by stiffening the front end of the vehicle by adding Front Strut Bars and Front Anti Roll Bars.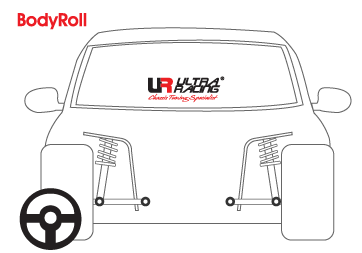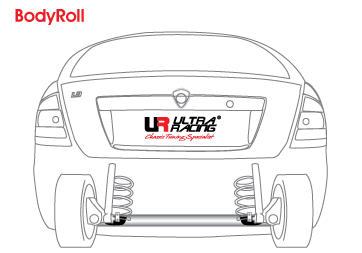 The forces acting on the car Proton Gen 2 when cornering. Front and back view.
When any of the wheels loses contact with the road surface, there will be a deviate in handling; each of the suspension system should keep all wheels on the road surface in spite of hard cornering and in change of steering position. It's always pleasing that that car can be set for a tiny amount of understeer so that it responds predictably to a turn of a steering wheel and the rear wheels to have a smaller dip angle than the front wheels. However this may not be achievable at all times due to the vehicle load, road condition, weather, speed and this consumes excessive time for the driver to adopt.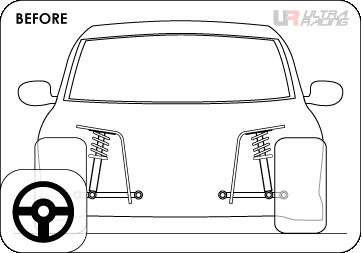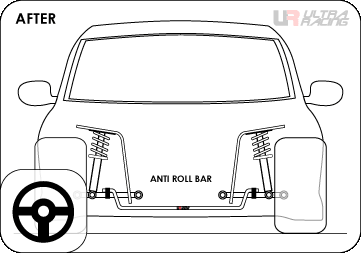 BEFORE install Ultra Racing's anti roll bar on car Proton Gen 2: When turning in corner, the weight transfer will make the car sway a side, causing body roll and more difficult to turn in to a corner, weaken the steering respond.
AFTER install Ultra Racing's anti roll bar on car Proton Gen 2: The upgrade version of Ultra Racing's anti roll bar will be more effectively preventing the car sway a side at cornering, greatly reduce body roll and high stability in cornering.
Test cars with installed Ultra Racing's Front Strut Bar and Rear Anti-roll Bar and without.
Movie of installation of the Ultra Racing's Front Anti-roll Bar.

Front Anti-roll Bar Proton Gen 2
Brand:

Ultra Racing

Product Code:

AR20-298

Availability: In Stock
Cost of delivery: 20$
Related Products